CHINA PRECISION MANUFACTURING-LIJIANG GLASS
2021/12/24 14:06
China Precision manufacturing-LIJIANG GLASS
——Automatic Jumbo Size Double Gas Filling Insulating Glass Line
On January 8, 2022, at YAOBO (Liqing) Glass Technology Co., Ltd. in Foshan, Guangdong, China, witnessed by Han Jincang, general manager of Jinan Lijiang automation equipment Co., Ltd., YAOBO Luohan, general manager and several glass industry experts and engineers. Automatic Jumbo Size Double Gas Filling Insulating Glass Line produced by Lijiang automation passed the acceptance in Foshan and was officially put into operation.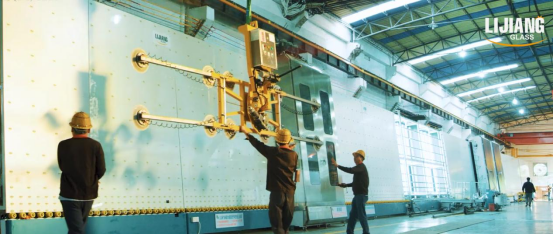 Foshan is the production base of high-end doors and windows in China, President Luo of Liqing Glass said: "Foshan City, Guangdong Province is the production base of systematic doors and windows in China, and there is a great demand for high-end glass. This 3.3 * 8m large plate inflation line has entered Foshan, which meets the market demand of high-end home decoration market and customized doors and windows for large plate glass. We are very satisfied with the cleaning effect of glass, the flatness of plate pressure, the inflation effect and the stability of sealing glue. We are very careful in selecting hollow equipment suppliers During the investigation, many factors were integrated, including the R & D strength, processing capacity and industry experience of the other party, and Lijiang was finally selected. 
Automatic Jumbo Size Double Gas Filling Insulating Glass Line produced by Lijiang company is highly automated and the number of posts is small. It has obvious advantages in product specification and production efficiency. This automatic super large insulating glass production line can not only realize the processing of two pieces of super large insulating glass at the same time, which improves the processing efficiency, but also adopts the plate pressing technology of Baichao. While ensuring the flatness of the pressed plate surface, the synchronous work of double plate pressing is used to realize the production of 3.3 * 8m super large insulating glass. In addition, the proportion of inert gas filled into the 3.3 * 8m super large glass online at one time can reach more than 90%, making the insulating glass more energy-saving and environmental friendly. Thank President Han's team for creating such an excellent machine for us. LIJIANG glass will also deeply cultivate the high-end customized market of home decoration doors and windows, continue to make efforts and make contributions to Chinese glass industry. "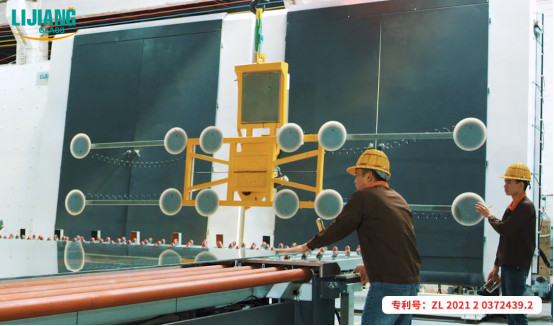 Lijiang Automatic Jumbo Size Double Gas Filling Insulating Glass Line and Lijiang people's conscientious working attitude have not only been highly praised by customers at home and abroad, but also been highly valued by Jinan science and Technology Bureau, industry and Information Technology Bureau, intellectual property office and science and Technology Association. After winning the "high-tech enterprise", Lijiang was successively selected into the "specialized and special new" small and medium-sized enterprises in Jinan and Shandong Province, "Jinan gazelle enterprise", "Enterprise Science Association" and "Jinan expert workstation", and won the award of "special fund for industrial support and development".
Jinan Lijiang automation equipment Co., Ltd. has never stopped the pace of exploration and innovation. Lijiang team has set the goal of making the medium air line of super large plate in 2020. By benchmarking the manufacturer of the world's top flow, the head of Lijiang technology department led the technical team to decompose the super large plate production line with processing capacity of 8 meters into two plate presses, and overcome various difficulties in the design process through the technical assumption of accurate and synchronous pressing of servo lead screws, From solving the load-bearing problem of super large plate glass, the difficulty of inflation, glass lifting and adsorption, glass transmission challenges and other links to overcome the difficulties one by one, and finally achieved a new breakthrough in the full-automatic super large insulating glass production line. Through the unremitting efforts of Lijiang people, this technical achievement obtained the patent of Automatic Jumbo Size Double Gas Filling Insulating Glass Line in May 2021 (Patent No.: ZL 2021 2 0372439.2). This is not only a breakthrough in Lijiang plate pressing technology, but also an affirmation of the technical automation level of hollow equipment in China.

China Precision manufacturing, made by Lijiang intelligence. Lijiang will live up to the expectations of the public, continue to work deeply and carefully in the glass deep processing industry, forge ahead and become a specialized new enterprise in the glass machinery industry.